Doing The Impossible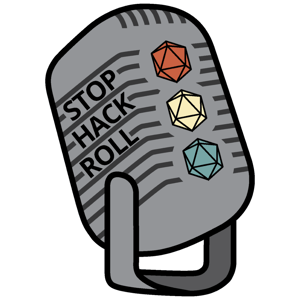 Episode 57
Episode 57 - Doing The Impossible
In this episode Brandon and James work together to explore the topic of teamwork in games. James explains that he's always been underwhelmed by the team mechanic so he and Brandon work together to create a move that enhances the experience.
Notes The first One Shot Book Club as part of their Patreon is starting This month get a free copy of Pasión De Las Pasiones! patreon.com/posts/20740714
Resources
When you take a concentrated effort as a team to do the impossible, state your goal and the GM will tell you what it's going to take to manage it. Roll + Players who wager a Condition. On a hit, you do it and set up an incredible opportunity. On a 7-9, everyone who wagers marks that condition. On a 6-, everyone marks a condition and prepare for the worst.
Games mentions in this episode:
Fate Core Urban Shadows Noir World on Twitter Epyllion Cartel Zombie World
Find us both on twitter as @stophackandroll Find all our episodes and links to some of the games we've been working on at StopHackandRoll.com Email us at James or Brandon @ Stophackandroll.com Please Rate and review our podcast on iTunes to help others find our show.
We make this podcast with the support of Patreon backers like UPDATE If you'd like to help support this show and future shows check us out at Patreon.com/stophackandroll
If you can't support us financially, support our community by being part of it. Join our discord at tinyurl.com/shrdiscord or discord.stophackandroll.com
Music for the show is There It Is Kevin MacLeod (incompetech.com) *Licensed under Creative Commons: By Attribution 3.0 License *