Authorial Authority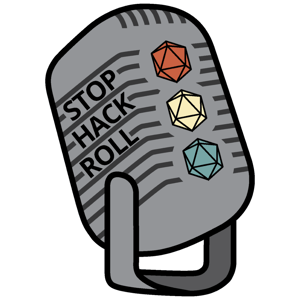 Episode 55
Episode 55 - Authorial Authority
In this episode Brandon and James once again talk about the balance of power in a roleplaying game. Continuing a conversation started in the SHR Discord they brainstorm whether you could pass GM level narrative control between players.
Find us both on twitter as @stophackandroll Find all our episodes and links to some of the games we've been working on at StopHackandRoll.com Email us at James or Brandon @ Stophackandroll.com Please Rate and review our podcast on iTunes to help others find our show.
We make this podcast with the support of our Patreon backers. Welcome to new backers like Andrew Gross as well as old favorites like The ITU Trash Crew, Shuffle Quest, Robert Kosek, Blake Ryan, Troy Pichelman, Nora Blake, Amr El-Azizi, Clay, Terminally Nerdy, and Zoey Rich.
If you'd like to help support this show and future shows check us out at Patreon.com/stophackandroll
If you can't support us financially, support our community by being part of it. Join our discord at tinyurl.com/shrdiscord or discord.stophackandroll.com
Music for the show is There It Is Kevin MacLeod (incompetech.com) *Licensed under Creative Commons: By Attribution 3.0 License *